Systems that work together to help you to do what you do best.
Connecting information systems with each other could lead to much better business processes. For example, connecting an online store with a shipping company for automated shipment of orders. Our aim is to integrate information systems with each other, such that they can work together as a coordinated whole. Thereby improving the business processes of our customers.
Integration Services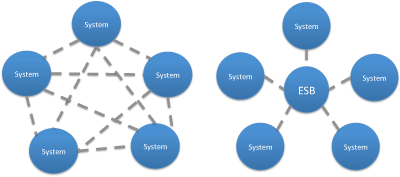 Our integration method utilizes a flexible and cost-effective architectural pattern known as Enterprise Service Bus (ESB).
Enterprise Service Bus
Acts as a reliable and secure messenger between systems. Reduces the amount of connections required between systems and is able to translate system interfaces.
Technologies
Fuse ESB, Petals ESB, Open ESB, Microsoft BizTalk, Microsoft BizTalk ESB Toolkit